Applying for an apartment
1. What's available for rent now?
To learn about what is available now or upcoming availability, click here.
2. How do I apply for an apartment?
To apply for an apartment, anyone over 18 that will be living in the unit must fill out an application and pay the $50 credit check fee. You can pick up an application from our office, or download it here: FHI Lease Application
The application can either be mailed, faxed or emailed to our offices. The $50 credit check fee (check or money order made payable to Farnsworth-Hill, Inc.) must be mailed or delivered. CASH WILL NOT BE ACCEPTED FOR AN APPLICATION FEE, A SECURITY DEPOSIT OR RENT.
Not all of the properties that we manage hold security deposits for tenants.  For those that DO hold security deposits, we also require an earnest money deposit to hold an apartment. This amount varies by size and type of apartment. This money will go toward your security deposit and is nonrefundable unless your application is rejected. Please contact our office for information on how your earnest money check should be made out.
If the property DOES NOT hold security deposits for tenants, your Administrative Fee is due at the time of application.  Please contact our office for details as to what fees are required with your application and who they should be made payable to.
3. Why do you do credit and criminal background checks?
We do credit checks to protect our property owners and also to insure that someone will be able to pay their rent. We do criminal background checks to protect our tenants, our employees and your neighbors.
4. What if my credit isn't good enough or I don't have a credit history?
In some cases, a guarantor with good credit for the apartment can be added to the lease if someone has a weak credit history. This person will then also be liable for rent payment.
If you have been informed that we will need a guarantor for your lease, you can download the form here: GuarantorAgreement
5. Why might my application be denied?
If a credit report shows a significant history of nonpayment or evictions, the application will be rejected. If an application/ criminal background report shows a history of activity that could endanger the well-being of our employees or tenants, it will be rejected. Any negative information from references will result in an application being denied. Any false information will result in an application being denied.
6. Which parts of the lease do I sign?
On the lease, look for areas that say "Lessee" and sign those spaces on page 5 of the lease and page 2 of the rider.
7. Do you allow pets?
A few of our buildings are cat and/ or dog friendly, and that information shows on the property listing page. Otherwise, only service animals and small animals such as fish and hamsters are allowed.
Moving In
1. Who should I call to schedule my move in?
Call your building's janitor to schedule your move in 1-2 weeks before your move in date. If you need their number, please call or email the office. Your lease must be signed and both your security deposit (if required) and your first months rent must be paid BEFORE you move in.
2. What time can I move in?
Out of consideration for your new neighbors, we ask that you please move in during daylight hours, preferably before 6pm.
3. Can I move in a few days early?
In most cases, work will need to be done on the apartment before it is ready for your move in. For more information on this, please contact your property manager.
4. How do I set up utilities/ what's included?
This will vary by building.Please see your lease rider for which utilities are included in your monthly rent, and click here for information on how to contact the appropriate companies. We suggest that you contact all utility providers at least two weeks before your planned move-in date to be sure that everything is ready for you on moving day.
PAYING MY RENT
1. When is rent due?
Rent for the month is due every month by the 1st. For example, October rent is due on October 1st.
2. What happens if I'm late?
If your rent is received after the 5th of each month, it will be considered late and a late fee will be assessed. The specific late fee for your building is listed in your lease.
3. Who do I make my rent check out to?
The first page of your lease should show who you make your checks our to. This is usually the name of the business that owns the building, or the building street address. Making the check out to Farnsworth-Hill, Inc., is not acceptable and may result in a delay in processing and possibly a late fee.
4. What information should be included on my check?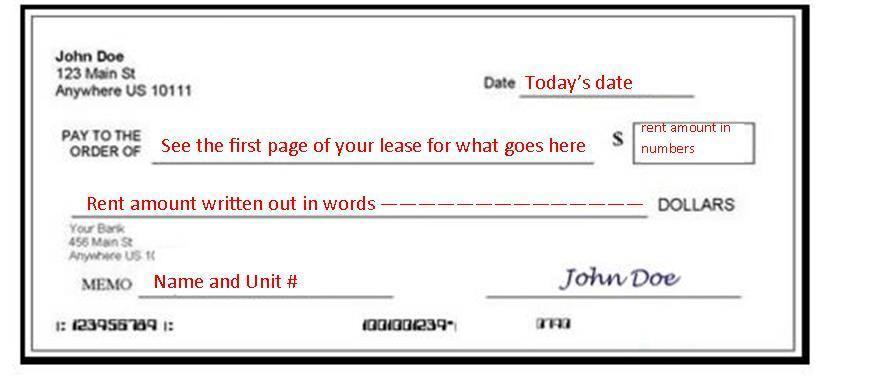 Make sure your check includes your name, address and unit # (putting this in the memo section is fine) and the current date. Post dated checks will not be accepted. Once we receive a check, we consider the funds available for deposit.
5. Have you deposited my check yet/ when will that happen?
We make deposits daily. If the bank happens to be closed, you may see that your check has not been deposited when you look at your online banking statement. If 10 days or more have passed and your check has still not been deposited, please contact our office.
6. What is your mailing address/ where should I send my rent?
Please mail your rent to our office at:
Farnsworth-Hill, Inc.
708 Church Street, Suite 211
Evanston, IL 60201
7. Can I bring it in to your office?
Of course! This is probably your best option to ensure our receipt of your check.  There is a mail slot in our office door that you may slip your payments through.
8. How should I schedule service for my apartment?
If you need service for your apartment, please click here or contact your property manager.
9. Do you offer parking?
We do have parking available for a monthly rate at a number of our locations, and others are located near city parking garages . Please contact your property manager about parking options.
10. How do I cancel my parking?
Parking leases can generally be canceled with 30 days notice when a written request is submitted to our office. We cannot hold this spot for you once you have canceled your parking lease (e.g. you leave for the summer).
11. Can I get a copy of my lease?
Should you need a new copy of your lease, please call or email our office. and we will arrange to get a copy to you.
MOVING OUT
1. Who do I call to schedule my move out?
Call your building's janitor to schedule your move out 1-2 weeks before your move out date. If you need their number, please call our office or email our office.
2. How do I give you my forwarding address for my security deposit refund?
Please fill out the security deposit refund form and email or return it to our office 1-2 weeks prior to your move-out: SECURITY DEPOSIT REFUND FORM
Failure to provide a forwarding address may result in a delay in the return of your deposit.
3. When do I get my security deposit back?
Your security deposit will be returned to you within 21 days(Evanston Residents) or 45 days (Chicago Residents).
4. Can I use my security deposit for my last month's rent?
No. The security deposit cannot be used as your last month's rent. It is held until the apartment has been inspected after you move out and deductions will be made for any damage.
5. What do I need to do to avoid deductions from my security deposit?
Leaving your apartment the way it was delivered to you and ready for the next tenant will result in the return of your full security deposit. Charges are outlined in your move out letter, or contact your property manager. Please plan accordingly.
6. What happens if I need to break my lease?
Sometimes people need to break their lease for whatever reason. We will need you to submit this request in writing no less that 60 days before you need to vacate. You then have 2 options:
You can find a sub-letter for your apartment, in which case your name would still be on the lease, and you would continue to be liable for the rent if the sub-letter fails to pay.
Your other option is to pay a re-rent fee of 1/2 months' rent, we'll find a new tenant and you'll be off the lease. With this option, you are still liable for the rent until we find a new tenant.
Please contact your property manager for details on any fees and forms required for either of these options.